Ducky Luck Casino. Where to begin… This is a weird one. You're probably here to find out what to make of this casino. Is it trusted? Who owns it? What license does it have?
We're here to find out the answers to these questions (spoiler: we won't) and try to understand what makes this casino so appealing. So buckle up, because we don't even know where we're going with this.
TLDR: It's probably not the best casino for everyone, but for some players, it could be one of their few (or only) options depending on their location.
Casino
Review
Features
Promo Code
Play Now

Ducky Luck
600% Bonus + 150 Free Spins
Only 30x wagering requirement
Accepts players from most countries
No code needed
Play Now!
---
About Ducky Luck
| Launch | License | Suppliers | Games |
| --- | --- | --- | --- |
| 2020 | N/A | 12+ | 500+ |
---
Is Ducky Luck a quack?

Or something like that. Rightfully, you might be wondering if Ducky Luck Casino is even legit. Everything just feels inconsistent. While we've been able to make deposits, play, win, and get payouts, we remain on edge.
There's no license (and when asked about it, they couldn't disclose it), there's no owner, the site looks awful (no offense), it has very few games and suppliers compared to other modern crypto casinos, and the list goes on. So what makes it appealing to players?
That's what we're trying to figure out, but honestly, they just seem to be pretty transparent with their operation. Whoever they are. As long as they keep that going, and operate a fair crypto casino, good on them.
It's hard to recommend a casino like this, so the choice is really up to you. Maybe you've had previous experience with something like this, or maybe you're just looking for a crypto casino that's specifically unlicensed. Let's keep digging anyway, and see what's unveiled.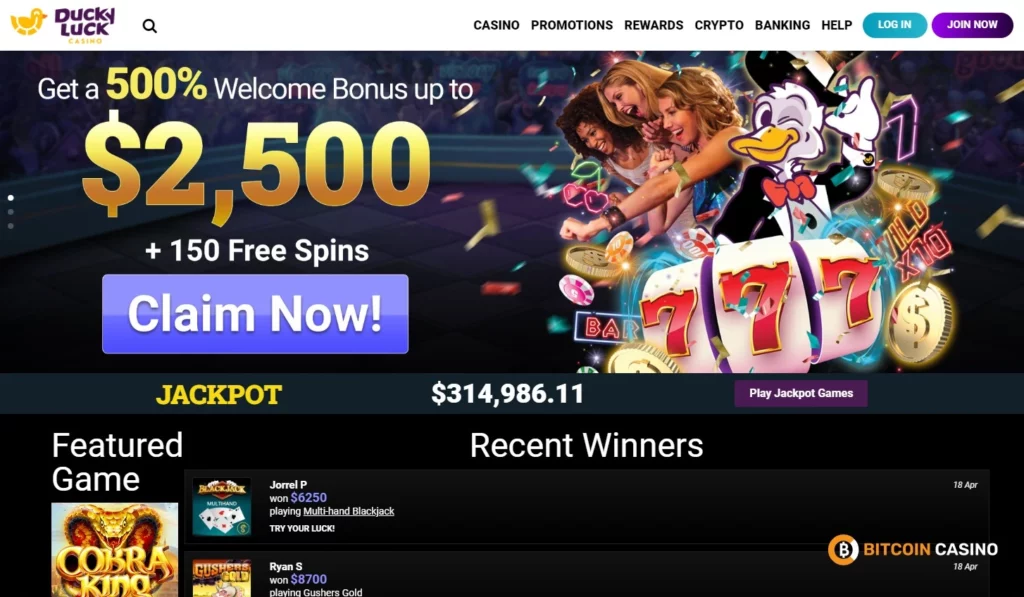 ---
What we liked (and didn't like)
There's a lot not to like about Ducky Luck. In many ways, it goes against what we stand for. At the same time, it does have a couple of redeeming qualities. However, even those won't make up for the fact that they're secretive about their license and owner. We'll try to clarify this as best we can below.
Pros
First off, the good stuff. We like the logo. It's cute, it's honestly well-made, and it just works. It's probably got more effort put into it than everything else on the Ducky Luck site, and it looks better than most casino logos.
Secondly, the bonus offers. Actually, the welcome promotions here are good. Great even. Not only is it super generous, but the wagering requirements are actually fair, which comes as a surprise. More on that later though, as we dive into the promotional offers available.
Despite how awful the site looks in general, the mobile version actually doesn't look that bad. Luckily, that's the format most players will be using anyway, so it's a good thing they managed to get that right.
Lastly, one major feature appealing to players is availability. Ducky Luck Casino accepts players from far more countries than the vast majority of crypto casinos we've visited. This is one of its main attractors for players otherwise unable to play with crypto.
Cons
Now, for the drawbacks. These are rather significant, so we hope you bear them in mind if you end up deciding to visit the casino anyway.
There's the issue of having no disclosed owner or license. This poses a potential security risk, as there's no way of knowing how fairly they're operating at any given time.
The site itself looks horrendous, almost as if it was done on purpose. Looks like a site from the early 2000's one nobody knew what they were doing. The mascot is ugly, the game thumbnails are ugly.
There are only 500 games and barely over 10 software providers, which is much lower than most other crypto casinos.
Every click has a loading time attached, which makes the overall experience slower. The live chat is weird. Withdrawal limits are quite low. And that's pretty much it, all of the things we don't like, in addition to the general weird vibe the site gives off. Make of it what you will.
---
Ducky Luck bonus and promotions
If there's anything we can actually praise, it's the welcome bonus. Bonuses, even, as you can choose between two different first deposit promotions when signing up. You'll also discover a bunch of additional promotional events to take advantage of.
Let's take a closer look at what first deposit bonuses you're able to claim, so you can decide which one suits your playstyle best.
Welcome package
If you choose the regular fiat first deposit bonus, you can get up to 500% extra to play with. Worth noting, however, is that you can only cash out 10x of your deposit, so there's a limit to how much you can win.
500% up to $2500 + 150 free spins
The wagering requirement for this bonus is 30x, which is pretty good. Note that only regular slots will count toward wagering. The free spins are distributed over 3 days, giving you 50 to use each day. Minimum deposit to claim this welcome bonus package is $25.
Crypto bonus
The crypto casino bonus is even more impressive than the fiat one. It's similar to the other one, but the match bonus is bumped up to a whopping 600%.
600% up to the crypto equivalent of $2500 + 150 free spins
In this case, the wagering requirement is 40x, but you get an extra 100% matching bonus. The same rules apply here though, meaning you can only cash out 10x of your initial deposit, so keep that in mind. You can only use crypto payment methods to claim this 600% match bonus.
---
Crypto payment options
We weren't surprised to only find 6 crypto payment methods to choose from. To be fair, these 6 coins are pretty much the minimum standard at most new Bitcoin casino sites. We would've liked more options, but we'll take it. Furthermore, they'll only work for deposits. The only cryptocurrency you can withdraw your funds in is Bitcoin.
The weekly withdrawal limit is the crypto equivalent of $2500. It also takes several days for Ducky Luck to process your payout, if you're a standard member. We didn't have to pay any fees for any transactions, so that's a plus.
Deposits and withdrawals
| Cryptocurrency | Deposit/Withdrawal | Transaction speed |
| --- | --- | --- |
| Bitcoin | Deposit and withdrawal | Up to 96 hours |
| Bitcoin Cash | Deposit only | Up to 96 hours |
| Litecoin | Deposit only | Up to 96 hours |
| Ethereum | Deposit only | Up to 96 hours |
| Tether | Deposit only | Up to 96 hours |
| Dogecoin | Deposit only | Up to 96 hours |
---
Software providers at DuckyLuck.ag
As previously mentioned, not a lot going on here, sadly. Yes, there are 500 games to choose from, but can we really call them quality games? Even the game thumbnails they're showing off on the front page are atrocious. The reason for this is quite obvious – software providers rarely want to work with unlicensed casinos, which is what Ducky Luck is.
You'll probably find a few games that you like, but if it's generally an important aspect for you when deciding on where to make your next deposit, this place isn't for you.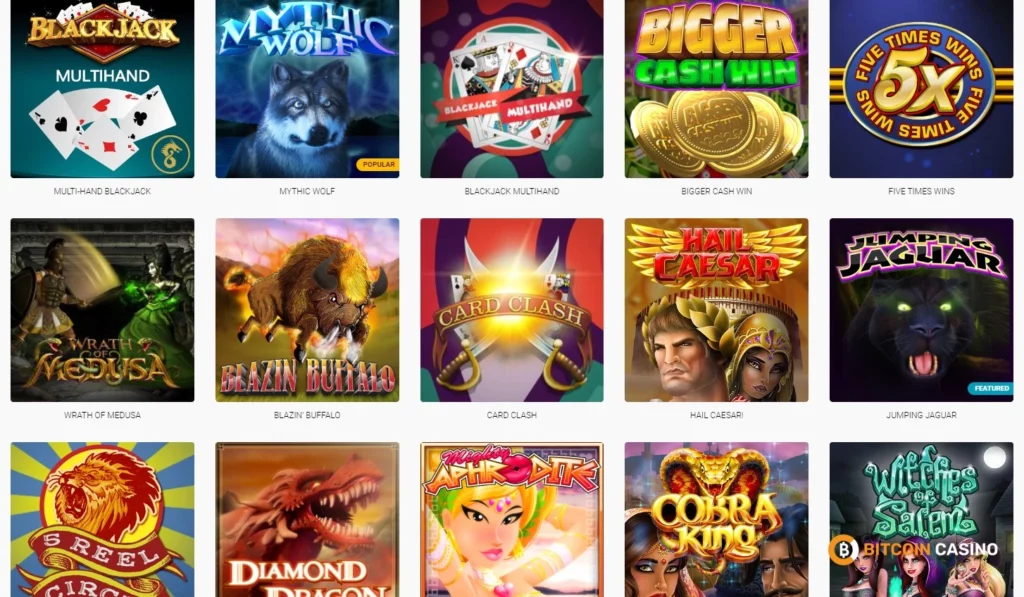 ---
Mobile and app
Ducky Luck manages to get this part right, against all odds. Despite how bad the casino looks on a regular monitor, the mobile experience is actually good. Yes, it's still pretty ugly, but at least it's not an eyesore.
It works rather smoothly, too. The loading times are still there, which isn't ideal, but everything is within reach, with adequate readability and easily accessible menus. That's about it, though, as Ducky Luck still is what it is.
---
Customer support
This was a weird one. Yes, they're there, you can contact them via live chat for instance. Sometimes it works, sometimes it doesn't. You can also just message them through the contact form available on the help page. Response times seem to vary, but if they state that they're online, it usually doesn't take too long.
---
Recommendation and verdict
Here we are, you made it. We made it. Sort of, can't be quite sure if we'll be able to recover after this fever dream of an experience. Maybe you disagree, though, maybe Ducky Luck is the perfect fit for you. It's off the grid, unlicensed, and kind of naughty. The players it appeals to the most are those who aren't usually able to access these types of Bitcoin casinos.
We've presented you with all the facts, so the rest is up to you. There are a couple of redeeming qualities, as mentioned, but there's a lot that weighs it down significantly. You'll have to make your own pros and cons based on this review and ultimately decide if Ducky Luck deserves your time and money.
---
Ducky Luck alternatives
So, if Ducky Luck isn't for you (which we definitely won't hold against you), then we've got a few options that might be a better match for you. These are all completely trusted and verified by our expert team, and overall excellent crypto casino picks for beginners and veterans alike.
Casino
Review
Features
Promo Code
Play Now

Wild Casino
$5,000 Welcome Bonus + 125 Free Spins
Plus 10% weekly cashback
Available to players in many markets
No code needed
Play Now!

Bitstarz
Weekly Tournaments
Regular giveaways and cash drops
Fast transaction processing
No code needed
Play Now!

BC.Game
Generous 300% deposit bonus
Original casino games & 8000+ in total
Supports many different altcoins

No code needed
Play Now!

FortuneJack
130% Bonus & 300 Free Spins or Cashback
20+ provably fair games
Low wagering requirements
No code needed
Play Now!

Stake
One of the most popular crypto casinos
Support for 19 cryptocurrencies
Available in many languages
No code needed
Play Now!
---
FAQ
Is Ducky Luck actually legit?
Ducky Luck is not licensed by any reputable gambling authority and doesn't disclose who its owner is. They're transparent with how they operate, but there's no telling how fair or legitimate this crypto casino is.
What bonus offers are there?
Currently, there are two lucrative welcome bonus offers to choose from. There's a 500% fiat currency bonus, and a 600% cryptocurrency bonus, either with an additional 150 free spins to play with.
Which cryptocurrencies can I deposit?
You can use any of these 6 crypto coins to make deposits: BTC, BCH, LTC, ETH, USDT, and DOGE. Note that only BTC can be used for withdrawals.
---
Author